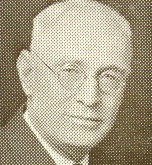 James E. Johnson
"Born at Lynn Valley, August 19th, 1868. Son of
Richard M. [sic] Johnson and Harriet Finch. Attended public school at Lynn Valley, Simcoe high school, Ontario Business College, Belleville. Lived in Chicago 1889 to 1899, and since that date a resident of Simcoe.
Vice-President J. B. Jackson Ltd.
Manager Norfolk Fruit Growers' Association.
Manager Norfolk Co-operative Co. Ltd.
President St. Williams Preservers, Ltd."