This is student: Ernest Shoff
Identified 29 Jul 2011 by Dick Hewitt
Confirmed 25 Aug 2017 by Barb Awde

From Linda Feere: This is definitely Ernest Shoff, only son of David and Wilhemina Shoff, brother of Elizabeth Shoff and Anne Shoff. The family lived on Highway 6, just west of Blue Line Road.
Ernest married Evelyn Smith. They lived in a house that was moved onto the lot next to his parents. They had a son and daughter. Ernest owned and operated Ernest Shoff Haulage.
In his later years he drove truck for the Region of Haldimand-Norfolk. Ernest died last year.

If you can identify this person and hopefully tell us more
about him, please e-mail your response (re Person 46-18)
to John Cardiff. It will be posted here.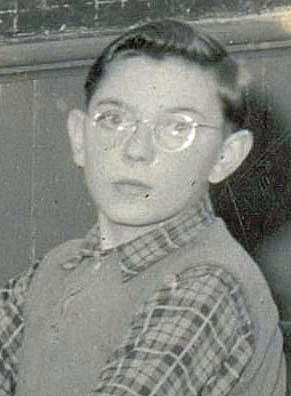 See Enlargement 1 or
Enlargement 2