This is student Margaret Peters
Tentatively identified as Betty Awde in 2013 by Clarence Morris
Challenged 17 Aug 2017 by Barb Awde
Identified as Margaret Peters 25 Aug 2017 by Barb Awde

From Barb: My sister Betty was identified in the 1939 photo of Doan's School, so to be in this photo she would have had to be in grade 1 in 1938, possible, but I don't think this is Betty.

From Clarence: I am 99% sure this is Betty Awde, sister of Barbara Awde, and future wife of William G. Sherman.
Betty died in 1992 and is buried in Port Dover Cemetery.

If you can confirm or dispute this identify, or tell us more
about Betty, please e-mail your response (re Person 46-17)
to John Cardiff. It will be posted here.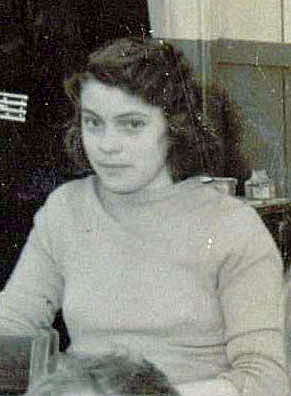 See Enlargement 1 or
Enlargement 2