This is student: Keith Richards
Tentatively identified 31 Jul 2011 by Dick Hewitt
Tentatively identified 13 Feb 2016 by Linda Feere
Questioned 17 Aug 2017 by Linda Feere
Identified 25 Aug 2017 by Barb Awde

Richard Hewitt suggested this may be "___" Richards.
From Linda, 2016: I believe this is Murray Richards.
From Linda, 2017: Murray would not have been old
enough to be in school at this time. Maybe this is
Murray's older brother, Keith Richards.
From Linda. 2017: This is Keith Richards,
eldest son of Albert and Gertrude (Davis) Richards.
Keith died in his 20s from leukemia. His engagement
to marry was published just a month before he died.

Lynnville Cemetery stone:
"Keith Richards 1935-1956"

If you can confirm this person's identify and/or tell us more about him, please e-mail your response (re Person 46-19) to John Cardiff. Your response will be posted here.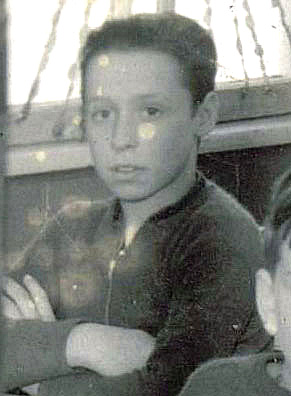 See Enlargement 1 or
Enlargement 2