Site visitor Linda Feere emailed us the accompanying photos on 29 Aug 2016. They were taken
16 Aug 2014 in Doan's Cemetery, shortly after this new monument was erected.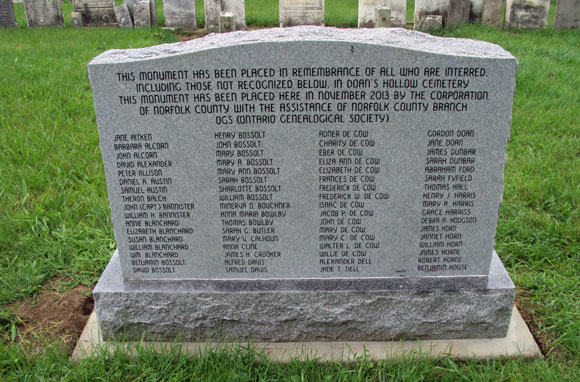 "This monument has been placed in remembrance of all who are interred including those not recognized below, in Doan's Hollow Cemetery. This monument has been placed here in November 2013 by the Corporation of Norfolk County with the assistance of Norfolk County Branch OGS (Ontario Genealogy Society)"

| | | | |
| --- | --- | --- | --- |
| Jane Aitken | Henry Bossolt | Adner DeCow | Gordon Doan |
| Barbara Alcorn | John Bossolt | Charity DeCow | Jane Doan |
| John Alcorn | Mary Bossolt | Eber DeCow | James Dunbar |
| David Alexander | Mary A. Bossolt | Eliza Ann DeCow | Sarah Dunbar |
| Peter Allison | Mary Ann Bossolt | Elizabeth DeCow | Abraham Ford |
| Daniel A. Austin | Sarah Bossolt | Frances DeCow | Sarah Fyfield |
| Samuel Austin | Sharlotte Bossolt | Frederick DeCow | Thomas Hall |
| Theron Balch | William Bossolt | Frederick W. DeCow | Henry J. Harris |
| John (Capt.) Bannister | Minerva O. Bouchner | Isaac DeCow | Mary J. Harris |
| William H. Bannister | Anna Maria Bowlby | Jacob P. DeCow | Grace Harriss |
| Annie Blanchard | Thomas Bowlby | John DeCow | Debra A. Hodgson |
| Elizabeth Blanchard | Sarah C. Bulter | Mary DeCow | James Horn |
| Susan Blanchard | Mary V. Calhoun | Mary C. DeCow | Jannet Horn |
| William Blanchard | Anna Cline | Walter L. DeCow | William Horn |
| Wm. Blanchard | James H. Crooker | Willie DeCow | James Horne |
| Benjamin Bossolt | Alfred Davis | Alexander Dell | Robert Horne |
| David Bossolt | Samuel Davis | Jane T. Dell | Benjamin House |

-- see enlargement of monument photo -- side 1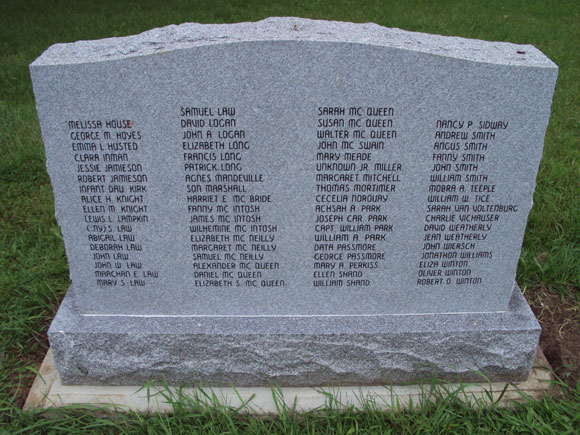 | | | | |
| --- | --- | --- | --- |
| | Samuel Law | Sarah McQueen | |
| Melissa House | David Logan | Susan McQueen | Nancy P. Sidway |
| George M. Hoyes | John A. Logan | Walter McQueen | Andrew Smith |
| Emma L. Husted | Elizabeth Long | John McSwain | Angus Smith |
| Clara Inman | Francis Long | Mary Meade | Fanny Smith |
| Jessie Jamieson | Patrick Long | unknown Jr. Miller | John Smith |
| Robert Jamieson | Agnes Mandeville | Margaret Mitchell | William Smith |
| Infant dau. Kirk | son Marshall | Thomas Mortimer | Mobra A. Teeple |
| Alice H. Knight | Harriet E. McBride | Cecelia Norquay | William W. Tice |
| Ellen M. Knight | Fanny McIntosh | Achsah A. Park | Sarah Van Voltenburg |
| Lewis L. Lampkin | James McIntosh | Joseph Car. Park | Charlie Vichauser |
| [..ny] S. Law | Wilhemine McIntosh | Capt. William Park | David Weatherly |
| Abigail Law | Elizabeth McNeilly | William A. Park | Jean Weatherly |
| Deborah Law | Margaret McNeilly | Data Passmore | John Wiersch |
| John Law | Samuel McNeilly | George Passmore | Jonathon Williams |
| John W. Law | Alexander McQueen | Mary A. Perkiss | Eliza Winton |
| Maachan E. Law | Daniel McQueen | Ellen Shand | Oliver Winton |
| Mary S. Law | Elizabeth S. McQueen | William Shand | Robert O. Winton |