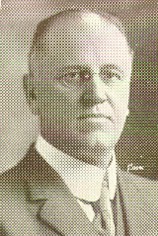 H. B. Donly
"Was editor and proprietor of The Simcoe Reformer from 1881 to 1922. He has been president of the Brook Woolen Company since 1906, in which year his father-in-law, the late Mr. Joseph Brook, founder of the company, died so suddenly. When he gave up the newspaper Mr. Donly moved down to Victoria Street and has taken an active share in bringing about the many and great improvements that have resulted in the highly satisfactory expansion of the industry so observable of late. Mr. Donly is chairman of the Simcoe Library Board and is the senior ex-chairman of the Simcoe Board of Education. He is an ex-president of the Canadian Press Association; of the Poster Advertising Association of Canada; of the Norfolk County Agricultural Society; of the Norfolk County Liberal Association, and of the Norfolk Golf and Country Club. Twenty-five years ago, as editor of The Canadian Wheelman, and secretary of the Canadian Wheelman's Association, he was known to the bicyclists of Canada from Halifax to Victoria. He is the holder of a commission, from His Majesty the King, as Honorary Lieut.-Colonel of the 133rd Battalion, C.E.F. Mr. Donly was born in Simcoe 62 years ago, and with the exception of a few brief spells of travel has spent his life here."

Also see:
1896 Simcoe Bicycle Club,
1899 Thicks vs Thins Hockey Team,
1907 Simcoe's first automobile,
his Family Group Sheet.