This is: student Marion Clapp
Identified by Joe Kelly, Linda Russell, Simcoe Reformer
Confirmed 29 Jan 2006 by Ruth Shoff Tharrington

Marion and Mary Clapp were the twin youngest daughters of Simcoe jeweller Ross Clapp and Marjorie McCall, and the only sisters of Howard Clapp.

From Ruth: Marion was long and lean, just like her mother, who I believe had been a model.

If you can tell us more about Marion, please e-mail your response (re Person 39-22) to John Cardiff.
It will be posted here.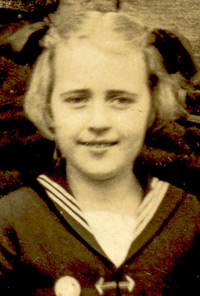 See Enlargement >