This is: student Howard Leslie Clapp
Identified by Joe Kelly and Linda Russell
Confirmed 29 Jan 2006 by Ruth Shoff Tharrington

Howard was third son of Simcoe optometrist and jeweller Ross Clapp and Marjorie McCall, and an elder brother of Marion Clapp and Mary Clapp, also in this photo.

From Howard's son Kevin Clapp: My paternal grandfather, Ross L. Clapp, was born in Prince Edward County, Ontario, and came to Simcoe around 1919 following a stint in Thunder Bay as a sales clerk in a large jewelry/optometry store. He married Marjorie, daughter of Dan McCall of Vittoria. They lived in a few different houses in Simcoe during my father's childhood: behind South School on John Street (home torn down years ago for playground), the house north of Guy's Vac shop on Norfolk Street at Colborne Street, the Sutton house by the Waterfall on Norfolk Street North. Then in 1935 my grandfather purchased the farm on Lynn Valley road which became Lynn Meadows golf course in 1959. Dad owned Clapp Jewelers in Simcoe from 1951 to April 1992 when it closed due to a fire. Dad met Dora Burkholder of Waterdown, Ontario, at the Summer Gardens in Port Dover in the summer of 1952. They married 29 Oct 1954. Dad passed away 14 Apr 2004 at Norfolk General Hospital in Simcoe.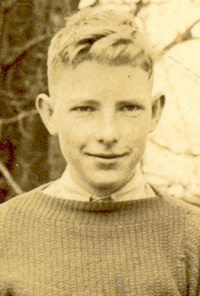 See Enlargement >

also see
Howard Clapp
in our
1946 Simcoe High photo