This is: student Ruth Shoff
Identified by Joe Kelly, Linda Russell, Simcoe Reformer
Confirmed 29 Jan 2006 by Ruth (Shoff) Tharrington

From Ruth: Ruth is the only child of Delbert Livingstone Shoff and Queenie Olive Eastman. Ruth married her stepmother's brother, Lawrence Stanley Card, and had three children. She subsequently married Herbert Junior Tharrington of North Carolina. Ruth was head waitress at Erie Beach Hotel in Port Dover, and at a Howard Johnson's Resaurant in North Carolina for many years. A 1999 cancer survivor, Ruth now lives in Hamilton, Ontario.

Ruth's father, Delbert Shoff, was the twin brother of
David Shoff, the father of Jean Shoff and Ernie Shoff,
also in this Doan's Hollow Public School photo.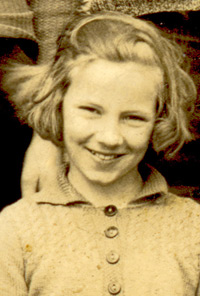 See Enlargement >