This is: student Leonard Kelly
Identified by Joe Kelly, Linda Russell, Simcoe Reformer
Confirmed 29 Jan 2006 by Ruth Shoff Tharrington

Brother of Joe, Laureen and Frances Kelly, Leonard was better known internationally by his nickname "Red" Kelly, Leonard grew up to become an All-Star hockey player, and is today arguably Norfolk's most famous native son. Playing with
the Detroit Red Wings 1948-1960, and Toronto Maple Leafs 1961-1967, Red won eight Stanley Cups and four Norris Trophies. While playing in Toronto, he was York's Liberal Member of Parliament, then coached three different teams in the NHL. He married US figure skating champion Audrea McLaughlin; they have four children. Leonard and Audrea live in Toronto. Leonard was induced into the Hockey Hall of Fame in 1969 and Norfolk's Sports Hall of Recognition in 1996. He returned home for the 2001 Rob Blake Stanley Cup Celebration and again in 2002 for Port Dover's Red Kelly Homecoming Celebration.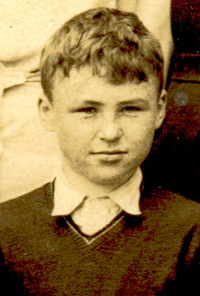 See Enlargement >