This is: student Helen Duncan
Identified by Joe Kelly and Linda Russell
(Reformer listed Ruth Duncan, but not her sister Helen)
Confirmed 29 Jan 2006 by Ruth Shoff Tharrington
Confirmed 9 Apr 2006 by her daughter Jane Thompson

From Jane: Helen is my mother. She is alive and well and just turned 80. Helen married Wallace Jarvis. Together they managed a successful business in plumbing and heating. She managed the accounting & bookkeeping. They are both alive and well, still living together in the home they built in Simcoe over 50 years ago.
They have 3 children and 7 grandchildren.
Helen's sister Ruth Duncan is Person 39-18.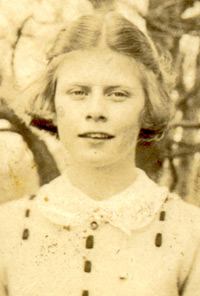 See Enlargement >