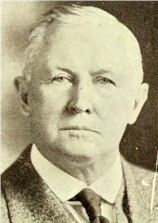 Elias Boughner
"Born in Windham Township in 1845, of U.E. Loyalist descent. Taught school for 20 years. Member Windham Council for years, and Reeve 1888-9. Served in agricultural societies of Windham and Norfolk for many years. Clerk of Norfolk County 1900-1920. Died April 21st, 1920."

Also see:
-- 1907 Simcoe's first automobile.
-- his 1920 obituary.