This is: student William "Bill" Hagan
Identified by Joe Kelly and Bill's daughter Linda Russell
Confirmed 29 Jan 2006 by Ruth Shoff Tharrington

From Linda: William Gerald Hagan was born 21 May 1926 in Port Dover, to William Arthur Hagan of Langton and Nina Ethel Schram of Port Dover. He was brother of Inez Hagan. Bill had to leave school at age 13 to find employment. He did odd jobs around Port Dover before starting at Simcoe's American Can plant when he was 16. He joined the army when he turned 18. He returned to the American Can after the war and in 1959 transferred to their plant in Hamilton. Bill retired from American Can at age 48 and tried his hand at several other jobs. He passed away in 1999.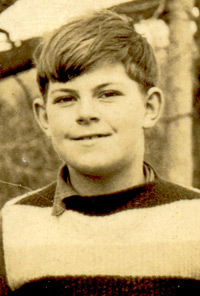 See Enlargement >