A transcription of a page 1 article in the 17 Jan 1929 Simcoe Reformer.

Wm. G. Jackson died in 39th Yr.

The very regrettable death of one of the most prominent of the younger citizens of Simcoe took place early last Saturday morning when William G. Jackson passed away in his 39th year. He had been chronically ill for more than a year, his sickness being complicated about two weeks ago by an attack of influenza. The abrupt termination of his very useful career leaves a gap that will be difficult to fill.

He was a son of the late John B. Jackson, prominent Simconian of an earlier day, and was born here on May 25th, 1890.

He was a graduate of Simcoe public and high schools and of Osgoode Hall Law School, Toronto, where he had a brilliant record. He also graduated from University of Toronto with the degree of L.L.B. Before he had reached his 25th year, he was appointed police magistrate for Simcoe, succeeding the late Squire Beemer, a position which he held for some time. Later he entered the produce business of J. B. Jackson Ltd., the enterprise started and built up by his father. Under his direction the business has undergone a rather phenomenal expansion.

He was a charter member and director of the Simcoe Rotary Club;
chairman of the finance committee of the Chamber of Commerce;
president, Norfolk Prohibition Union; a leader in boys' work and
the recently appointed president of the Simcoe Juvenile Hockey League.
In 1924 he was secretary-treasurer of the Norfolk Old Boys' Reunion.
In fact in every community enterprise he took an active part, giving of his time and means unstintingly. He was a valued member of St. James United Church.

He leaves his wife and three young children: Joseph, Alouise and Ruth. Also remaining, brothers, Dr. Alan B. Jackson and Harold M. Jackson, and half sister, Mary, all of Simcoe.

The private funeral on Monday afternoon was attended by many relatives and friends, including a number from Hamilton, London, Brantford, Port Rowan and other outside points. The floral tributes were exceedingly beautiful and numerous, requiring three cars to carry them from the house to the cemetery.

Rev. Wray L. Davidson, pastor of St. James United Church, officiated, and the bearers were: Chas. E. West, Harvey Evans, Ashton Somers, Bruce Whitside, John Francis and George Wilson.

Interment was made at Oakwood Cemetery. As the procession passed down Union and Norfolk streets, suitable selections were played on the carillon by Mr. Henri Sohier.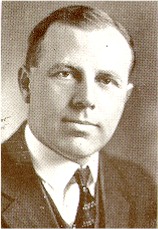 W. G.. Jackson