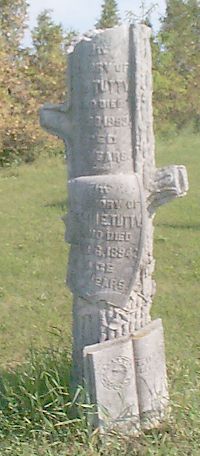 Top of Stone: "In Memory of David Tutty who died Oct. 29, 1893, aged 36 years."

Middle of Stone: "In Memory of Sarah E. Tutty, who died Feb. 6, 1894 age 29 years."

Stone [GPS:36.676/41.459]
-- see photo enlargement
Photographed at Hemlock Cemetery on the south side of Regional Road 42, west of Houghton Centre in Houghton Township, Norfolk County, 7 Jun 2003 by John Cardiff.

See same stone photographed 14 Jul 2011 by Jo Weitzel.