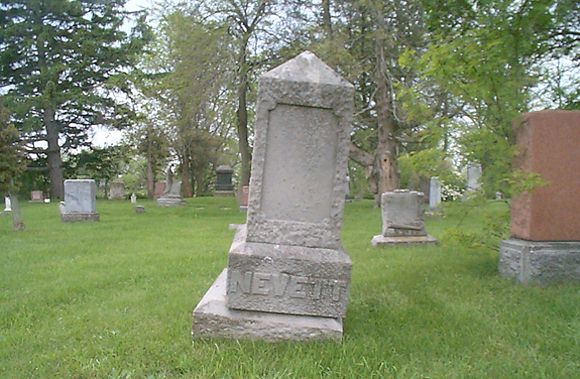 Four sided stone. Text on three sides. On east side (above) "Nevett"
-- see photo enlargement
On north side (see close up of north side text):
"In Loving Memory of William Nevett born at Kesington, London, England 19th Oct. A.D. 1821. Died at St. Williams Ontario Canada 3rd Nov A.D. 1898"
On south side (see close up of south side text):
"Elsie Jane McCall wife of the late Wm. Nevett born Oct. 16, 1839 [sic] died Oct. 14, 1921"
Stone [GPS:39.781/25.758] photographed and transcribed at Newkirk Cemetery at St. Williams, in historic Walsingham Township, Norfolk County by John Cardiff, 25 May 2004.
Camera: Kodak DC220
[Transcriber's Comment: Elsie Jane McCall was born in 1829, according to a surviving note written in her own hand.]
Also see his British Canadian obituary and his Simcoe Reformer obituary and her obituary.