From 22 Feb 1907 Simcoe Reformer
Those Who Have Votes
On the Waterworks By-Law --
Polling on Tuesday, 12th March Next

Town Clerk McCall, who is returning officer for taking the votes on the waterworks by-law, has prepared his list of those qualified to vote.
Formerly on money by-laws persons were entitled to vote in each ward in which they owned property. Now it is one vote only, no matter how much property you may own.
The list is prepared from the voters list for 1906 as finally certified to by Judge Robb. To be entitled to a vote, the elector must have, at the date of the final registration of the roll, been the owner of property within the town of Simcoe.
The list as prepared by Mr. McCall is here published in full. All citizens are requested to examine it carefully. Any person wrongfully omitted from the roll is requested to notify the town clerk at once.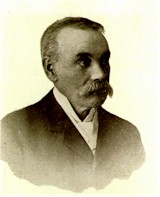 Judge James Robb