has during his long life been a prominent public man, and a useful and respected resident of is native County of Norfolk. He is a grandson of Donald McCall, the loyal old highlander who abandoned his possessions in New Jersey and sought a home in the wilderness under the flag of his fathers. His exploits has been briefly mentioned elsewhere, and it will be only necessary in this place to say that Mr. Simpson McCall still resides on the lot which his grandfather chose as his future home in 1796. His father, James McCall, was a Lieutenant during the war of 1812, and as a worthy descendant of a United Empire Loyalist, Mr. Simpson McCall has always been a steadfast supporter of British connexion.

He was born in 1807, and is therefore about seventy years old. In his youth the schools of those days were of a very primitive description, and Mr. McCall was hence obliged to acquire much of the education he possesses, in after years. He, however, had the good fortune to be able to attend the District School for a short time, which was held at Vittoria, and taught by the present Rev. Dr. Egerton Ryerson, late Superintendent of Education for Ontario.

In early life he followed agricultural pursuits, and although he has never wholly abandoned the cultivation of his farm, he has held several offices of honor and emolument, which have engrossed much of his time and attention. He was appointed Postmaster of Vittoria in 1834, a position he continued to hold until 1868, when he resigned, and was succeeded b his son, Geo. D. McCall, who still holds the office. For many years he carried on a general store in Vittoria, and bought wheat and other grain. In 1847, he was elected a member of the District Council, and from that time he was continuously a member of the District and County Council until 1864. His course in municipal matters was marked by a strict regard to economy in the expenditure of public money, and while he was Reeve of Charlotteville the taxes were kept at a lower point that they have since reached. He was on four different occasions elected Warden of the County, and filled the position to the satisfaction of all parties. He was appointed Justice of the Peace in 1845, under the administration of the present Chief Justice Draper, and has been an intelligent and just magistrate.

In 1867, he was elected the first member for the South Riding in the Legislative Assembly of Ontario, and throughout his Parliamentary career, as in municipal matters, he strenuously opposed any expenditure of the public funds which he deemed extravagant. In politics he has always been a Conservative, but has always refused to pledge himself to give a blind support to any party leader. Mr. McCall gave the Government off Sandfield Macdonald an independent support, and on the defeat of that Cabinet he gave the succeeding Government such support as their measures, in his opinion, warranted. After the expiration of the first Parliament he was re-elected, and sat for South Norfolk through the second Parliament, in all eight years. Although his Parliamentary course failed to meet the approval of both of the political parties of the day, his record will be found as free from objectionable votes as that of any member who has occupied a seat in the Legislature for eight years.

Mr. McCall was married in 1835 to Pricella Lamport, who with her six children, is still living.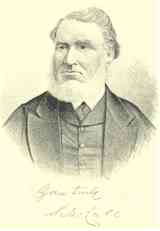 Enlargement