John Fitzgerald Clarke was born 16th July, 1827, at Coventry, England. His father, Rev. Wm. Clarke, was one of three pioneer missionaries sent out to Canada by the Congregational Colonial Missionary Society in 1837. Dr. Clarke enter the medical profession, of which he has been a useful member for nearly 30 years, in early youth. Passing his examinations at McGill College, and receiving his license before attaining his 20th year. Having settled in Vittoria, in 1847 he married Susan Maria, second daughter of Joseph Van Norman, Esq., proprietor and originator of the Normandale Iron Works. In 1851 he removed to Simcoe, where he has practised his profession ever since. Losing his wife in 1853, he married in 1855, Maria M., second daughter of Thomas J. Mulkins, Esq., J.P., Postmaster, and a leading merchant of Simcoe. He has been twice elected to the Town Council of Simcoe; was Surgeon to the County Goal from 1852 to 1870, and Coroner of the County of Norfolk from 1848 to 1870, when he resigned both offices on becoming a candidate for the representation of the North Riding of Norfolk in the Ontario Legislature. In the election of that year he was successful, and four years afterwards was again elected to the same position.

Dr. Clarke is what is known as a self-made man -- having acquired means to obtain his profession by his own labor. For some time he was a teacher in a common school--he was also a teacher of music, also a druggist's assistant for two years in the firm of Lyman Bros., of Toronto and Montreal. From 1846 to 1850 he was assistant editor of the Long Point Advocate, and in 1853 became its proprietor. For several years after this he was connected with the Reform Press, and has always been known as a persistent and consistent Reformer. It [sic] 1867 he was elected a delegate to the Canada West Reform Convention held in Toronto, where his advanced views were brought out in due prominence, but not successfully. As a man, and also as a member of the Legislature, he has been most prominent in advocating the principles of prohibition; man and woman suffrage; and the abolition of all courts for the collection of debts less than $60. He has also urged the extending of the Master and Servants' Act.

Dr. Clark has been successful as a medical practitioner, having had a very large practice for many years. He is well known for his good-natured, energetic style of doing business. He has been a prominent member of the Wesleyan Church for 20 years, a class-leader and local preacher for 8 years, and was representative to the first general conference of the Canada Methodist Church held in Toronto, when Dr. Egerton Ryerson was elected its President. Taken as a whole, Dr. Clarke's career has been very closely identified with the progress of Norfolk for the last 30 years.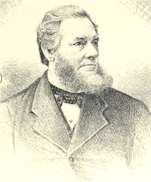 Enlargement

Link:
Dr. Clarke's notes on
Norfolk's geology