Death of Captain Willet G. Miller
nearly 100 years old
Death has claimed Simcoe's oldest citizen. Shortly before six o'clock Wednesday evening our old and esteemed friend, Captain Willet Green Miller. who had been an invalid for the past two years, called his family to his bedside, told them all, with perfect composure, a last good-bye, and an hour afterwards his century-long life of activity and usefulness came calmly to a close.
Willet Green Miller was born 11 Sep 1808 at Plattsburg, in the State of New York. When six years old he stood on a hill-top near the shore of Lake Champlain, the youngest probably of an awe-struck throng of people, and beheld a naval battle, known now in history as the Battle of Lake Champlain. the battle in which Britain and Canada strove to capture Plattsburg, and carry the war into the enemy's country.
Of these striking events Captain Miller carried distinct recollections down practically to the hour of his death. He remembered perfectly the leaders on the American side, General McComb and Commodore McDough, for they made their headquarters at his grandfather's house. Indeed, it was there the two warriors, having quarreled, vindicated their honour, as was the fashion in those days, by fighting a duel, each receiving a bullet wound, one in the thigh, and the other in the wrist.
In 1824 Captain Miller came to Canada, locating first at Burlington Bay, engaged in vessel building and was responsible for the launch of no less than twenty-five craft. Many of these vessels he himself sailed on the lake carrying trade.
He came to Norfolk in the early fifties. Two of the last vessels he built were the N. C. Ford at Port Dover, and the J. S. Austin at Port Ryerse.
On New Year's Day, 1906, in the possession of all his faculties, able to read without glasses and enjoying good health, he went to the polls to cast his ballot in the town elections. Returning home he was stricken with paralysis and since then has been an invalid, getting about with difficulty.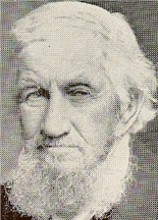 Capt. Willet Green Miller