The following is from page 4 of the 24 Oct 1918 Simcoe Reformer.

Private David Earl Stegmeir [sic] (photo), only
son of Mr. and Mrs. John Stegmeir [sic], 85 Young Street, Simcoe, officially reported missing;
believed wounded, 27 Sep 1918.

The following is from page 5 of the 24 Oct 1918 Simcoe Reformer.

Norfolk Casualties

796543 -- Pte. David Earl Stegmeir [sic] of Simcoe
is missing and believed wounded.
The following is from page 7 of the 21 Nov 1918 Simcoe Reformer.

Private David Earl Stegmeir [sic] (photo), only
son of Mr. and Mrs. John Stegmeir [sic], 85 Young Street, Simcoe, officially reported as died of wounds.

The following is from a page 6 article in the 5 Dec 1918 issue of the Simcoe Reformer newspaper. [Deceased spelled his surname with three e's: Stegmeier]


Private Earl Stegmeir
Mourned by Comrades

The following letters from Beverley W. Anderson,
Sergt. Wm. Riggs, and Sergt. F. L. Woods extend sympathy to Mr. and Mrs. D. E. Stegmeir in the
death of their son Earl of wounds received in action:
Hampstead, N.W.,
14 Nov 1918.
Dear Mrs. Stegmeir, -- A few days ago I received a letter from Alex Angus saying that Earl had been wounded and sent over here to England. So today I went down to the Record Office in quest of locating him.

Believe me, Mrs. Stegmeir, words fail to express my feelings on hearing the sad news. As a lifelong friend and chum, may I offer you my sincere sympathy. I will say nothing more, as I am sure it is a sorrowful and painful thing for you, but may I only say as a member of Earl's large circle of pals, I will certainly miss him.

I was just about a year ago that he and I spent fourteen days leave at Paris. Little did we imagine (it was just as well that we didn not) what the year 1918 would bring to us.

On Sunday I expect to leave England for Egypt, for my flying training; goodness only knows what my fate will be.

Let me now close. Again offering my most sincere sympathy. I remain
Yours very sincerely,
Beverley W. Anderson.

---

France, 6 Nov 1918
My Dear Mrs. Stegmeir, -- I am writing you this note and sending it to my wife who will give it to you, as I do not know your address.

I have no doubt that you have heard the awful tidings of your son's death. I had hoped for the best, but was shocked at the news, which I have just received from the Sergeant, who told me he had written to you.

I would like to tell you and his father and sister just how much he was to us out here.

After I left the Pioneers I lost touch with "Old Stegie" (our pet-name for him), but later on he came to the division as a signaller.

His work was greatly appreciated here, and I was told that his officer had him down as the next appointment for sergeant over his section. Lt. Auld, who lost his life near Amiens, had a great admiration for Stegie.

I will miss my old chum very much, with his genial smile, but how much more must you all at home miss the dear one taken away.

There is always a glory in remembrance, thank God, and I shall always think you will feel proud that he died doing his duty faithfully and heroically. The Sergeant told me he ran with an important message on the morning of the battle of Cambrai to deliver to headquarters.

I tender my heartfelt sympathy to you all on this awful blow to you. I shall always think of what a fine boy he was to me and all who know him, and his memory will be forever kept green by me and all his friends out here and at home. With deepest sympathy I remain.
Yours faithfully,
Sergt. William Rigg.
P.S. -- I shall be pleased to hear of any request you may make and I will endeavor to fulfill it. W.R.


---
France, 1 Nov 1918.
My Dear Madam, -- Permit me to offer my deepest sympathy to yourself and Mr. Stegmeir in connection with the loss of your son.

We have only just received definite news of this and had been unable to write hitherto for fear of causing unnecessary alarm.

Your son was one of a section of signallers of which I was N.C.O. in charge. He was a great loss to the section, both on account of his services and personality, and he met his death in battle on the 27 Sep under conditions that would be a source of pride to you if you were fully informed.

Your son was carrying a message a distance of 200 yards to a nearby headquarters and fell on the return journey: the delay in receiving full information as to the nature of his wounds was due to his being picked up immediately by stretcher bearers and carried to a dressing station, without our section being advised.

We were all fully occupied as it was one of the busiest days of the war and the day's work one of most successful. The fall of Cambrai was the result -- a little later on.

A parcel addressed to your son was received here a few days after he was killed and the enclosed fountain pen is the only personal effect that we have. His own belongings were, like many others, destroyed by shell fire.

As I was fortunate enough to be well acquainted with your son I have some idea how severe a blow this must have been to you, assuming that you have been officially notified already.

With sincerest condolence, I am,
Yours sincerely,
F. L. Woods, Sergt.

From the 25 Sep 1919 Simcoe Reformer, page 7:
Private Earl David Stegeier of 123rd Pioneer Battalion, formerly with 133rd Battalion, was killed 25 Sep 191[8] at [Carnbrat].
-- Aunts and Uncles


Also see Earl's Attestation paper: side 1 | side 2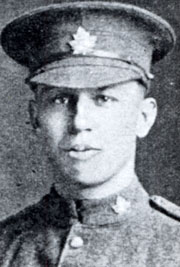 D. E. Stegmeier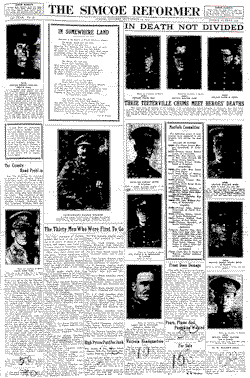 Image from microfilm