The following is from a page 1 article in the 19 Sep 1918 issue of the Simcoe Reformer newspaper.
Norfolk Casualties

Killed in Action
796645 -- Pte Edward Henry George Sellar of Simcoe
796026 -- Pte. Roy C. Feere of Port Rowan
796025 -- Pte. Norman J. McKenzie of So. Walsingham
Private William Campbell, Courtland
Pte. Levi Ashford of Cultus

Previously Reported Missing,
Now Listed as Dead
675672 -- Pte. Harry W. Fisher of Middleton
796204 -- Pte. Harry Orlando Wright of Toronto

Gassed
796646 -- Pte. John Toombs of Simcoe
739807 -- Private E. Hind of Port Dover

Wounded
796133 -- Private Oliver Potts of Simcoe, gunshot
796031 -- Pte. Norman Gell of Simcoe, gunshot
796513 -- Pte. Roland Percy McLean of Simcoe, gunshot
798017 -- Private Frank W. Hunt of Simcoe, gunshot
2448533 - Pte. Wm. David Gurr of Simcoe, concussion
797067 -- Private F. Chambers of Langton
796635 -- Pte. Walter Waddle of Woodhouse, gunshot
844167 -- Pte. Frederick Clark of Lynnville, gunshots
904755 -- Pte. A. Z. Ebert of Delhi
796544 -- Private John David Coates of Brantford
797007 -- Private Melvin Brandow of Carholme
797219 -- Private E. Staib of Lynedoch
796551 -- Pte. Charles Hargreaves of Port Dover
Private Dan Jeffrey former of Simcoe, severely wounded

Slightly Wounded, Returned to Duty
796016 -- Pte. Alex. Marshalaey Hall of Simcoe, gunshot

The following is from a page 1 article in the 26 Sep 1918 issue of the Simcoe Reformer newspaper.
Father and Son

Two Simcoe men, Private Walter Arthur Sellar (796626) and Pte. Edwin Henry Geo. Sellar (796645), father and son, enlisted with the 133rd Battalion.

The former was, before he enlisted, a corporation laborer. He was badly gassed and returned to Canada
on furlough. He leaves a week from today to go back
to England.

About a week ago he received the news of the death in action of his son, who was killed on 2 September,
being only 19 years of age. He was one of the buglers
of the 133rd Battalion.

The family resides on Queen St.



The following is from page 12 of the 3 Oct 1918 Simcoe Reformer.
Private W. A. Sellar returns today to the hospital
at Newmarket. He enlisted with his son in the
133rd Ballation and went to England, where he
was taken ill and returned to Canada. His son,
Private Edwin Henry George Sellar was killed
2 Sep 1918.

The following is from page 5 of the 24 Oct 1918 Simcoe Reformer.
The following letter has been received by Mrs. W. A. Sellar, whose son, Pte. F. H. G. Sellar, was killed in action a short time ago. The letter is from the chaplain of the battalion to which the dead soldier belonged:

9 Sep 1918
Dear Mrs. Sellar, -- As chaplin of the battalion of which your son was a brave and loved member, I beg to offer my deepest sympathy in your great loss.

The attack, in whick he was among the first to lead over the top, was one of the most bitterly opposed in the experience of our troops. That we won such a splendid victory was due to the courage of men like him, who feared failure more than death.

He was killed in action. We laid him to rest, with his comrades in a cemetery near the village of Dury, in Artois (No. 4, Plot 2, Row D.)

Any personal effects found will be forwarded to you through Cox's Agency.

You have already passed through a long period of aniety, and it is hard to walk through this Valley of the Shadow. May God comfort you with an abiding sense of His near presence and His sustaining grace. May you have the sympathy of Him who suffered all things for the good of men. May the twin stars of Faith and Duty guide you through this darkness.

His commanding officer unites with me in paying tribute to a brave soldier who showed splendid devotion to duty to the end.

Believe me, yours in deepest sympathy.
John L. McLunis,
(Captain) Chaplin.


Also see Edwin's Attestation Paper: side 1 | side 2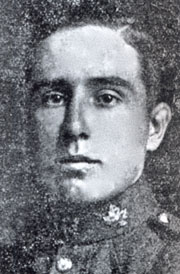 E. H. G. Sellar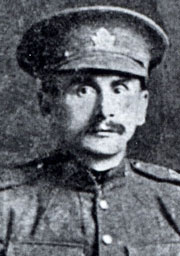 Walter Sellar