The following is from a page 1 article in the 9 Sep 1917 issue of the Simcoe Reformer newspaper.
"KILLED IN ACTION"

Yesterday's casualty list carried the name of Signaller Harold Ketch of Alvinstone, as having been killed in action. He was the son of a former editor of the Alvinstone Free Press.

In 1914, with the idea of improving his methods as a job compositor and to acquire a knowledge of printing costs accounting, he came to Simcoe and spent several months as a member of The Reformer staff.

He went overseas the following year. Last spring he was decorated for bravery on the field.

He was engaged to be married to a popular Simcoe girl.



The following is from a page 1 article in the 13 Sep 1917 issue of the Simcoe Reformer newspaper.

SIGNALLER HAROLD KETCH
of Alvinstone
Signaller Harold Ketch of Alvinstone (photo) killed in action. A former member of the Simcoe Reformer staff.



The following is from page 5 of the 1 Nov 1917 Simcoe Reformer.

TRIBUTES TO HAROLD KETCH
The following three letters were written to the mother of Lance-Corporal Harold Ketch, a former employee of The Reformer office. He was killed on 15 Aug 1917 after having been recommended for a commission. He had also received the Military Medal.

2 Lawson Place,
Dundee, Scotland,
9 Sep 1917
My Dear Mrs. Dodd, -- Having been Harold's constant companion since he arrived in France I have always intended to write to you since his death. I cannot put into words any definition of my love for Harold, but he will always be in my mind.

We had been granted commissions together, and now that I have had to come over here to take mine alone I feel his absence every minute of the day.

I understand from Mr. Robins that he told you something of the manner in which Harold met his death. We buried him the following night at the back of the trench. The fighting was very bitter indeed, even as we worked, and in consequence nothing at all could be done to mark the spot. However I have it down to a foot, and hope at some future date to have the honor of marking the last resting place of one of God's most perfect gentlemen.

I am sending you the map location. It is Sheet 36C, S.W. I N8, B59. This gives almost the exact place, but I have a sketch here showing the exact location. It is just a few hundred yards from Lens and the same from St. Emile. I am afraid the censorship would not allow of my saying anything further as to location at present.

In case anything whould happen to me, I am leaving the sketch with my sister to forward to you. I may manage to see you should I be spared to come through this affair alive. Meanwhile, if there is any further information or particulars I can furnish, I shall be pleased to do so.

Harold died as he had lived, a thorough, straight-forward Christian gentleman. I trust that you are well and bearing the misfortune as the mother of Harold must.
Yours sincerely,
Andrew E. Gillespie.

----------

France, 24 Aug 1917.
Dear Mrs. Dodd: -- There are few if any in the battalion who feel more keenly for you in the loss of your son, Lance-Corp. A. H. W. Ketch. The work he did was wonderful and the men he had under him are beyond words in his praise.

Going forward, we reached the point taken by the battalion which preceded us, and were forming up to storm the German line which formed our objective.

In the ordinary course of events Lance-Corp. Ketch would have followed me in laying our line to the objective. Owing to a general mix-up in one of the companies, practically all of my party were taken to form an assaulting wave.

Lance-Corp. Ketch was put in charge of a number of scouts and signallers and led them forward in the face of bullets and shells, reaching his objective in fine order. He set such an inspiring example to the men under him that they tell me it was impossible not to follow him.

It was after reaching the final objective that he passed on to his perfect resting place and no one can say they did more than he did.

We all feel very greatly over his loss, but even in our sorrow we are proud to think that he did such wonderful work. The signal section will miss him most awfully and sympathize in every way with you.

I am enclosing his military medal ribbon. The rest of his personal effects have gone forward through the usual channels.
Sincerely,
N. W. Robins, Lt.
Signal Section.

----------

France, 27 Aug 1917.
Dear Madame: -- I know that Mr. Robins has already written to you about the death of your son, Lance-Corp. A. H. W. Ketch, of his battalion, who was killed in action on the morning of 15 Aug 1917, but I thought I should like to add a word telling you od the esteem and affection in which he was universally held.

I have known him a long time, ever since I came to the battalion as its chaplin, almost 18 months ago and in the last year especially I have seen a lot of him and the more one saw of him, the more one felt what a splendid chap he was.

He was with me on the editorial board of the last Vera Patrol that we produced and his work, even in a small thing like that was characteristic of everything he did -- first class and exceedingly thorough.

We were all very glad when he was given the Military Medal after Vimy. No one deserved it better and it is well known amongst us that if he had been spared this time he would have been recommended for further honors.

He was a quiet sort of chap, but one felt underneath a wonderful strength and power for good. He was a splendid influence for good in the work of the signal section and not only they, but the whole battalion, mourn his loss very deeply and sincerely.

.One can only feel how gladly God welcomes men like him in His home. I like to think of Christ being close to them as they go into danger and when death comes, He wlecomes them with those splendid words, "Well done, thou good and faithful servant. Enter thou into the joy of thy Lord." For it is God's cause in which he has tallen as we humbly believe: the same cause of liberty and right in which the Soviour gave His life on the cross.

I can only express to you our deep sympathy and our pride in being able to say that we have known as a friend such a splendid man as your son. May God comfort you in your sorrow.
Every yours faithfully,
C. Stuart, Chaplin,
24th Battalion.

----------


MRS. MURCH RECEIVED LETTER
FROM COL. PRATT

H.-Q. No. 1 Labor Group,
S-10 France, 17 Sep 1917.
Dear Mrs. Murch, -- I have just heard with the greatest of regret that your good husband has been killed in action. He was a splendid soldier and I was and am very proud of him.

He has given his life that other might live and only we who are close to the German and can see his method can fully understand what that means.

I am sure that Norfolk will keep his sacrifice in proud and loving memory and a grateful country will not forget you. I send my heartfelt sympathy.

Signaller Harold Ketch of Alvinstone (photo) killed in action. A former member of the Simcoe Reformer staff.
Yours very truly,
Arthur C. Pratt.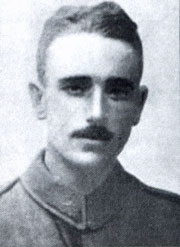 Harold Ketch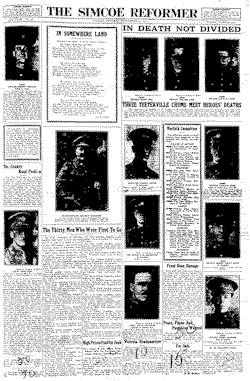 Photo from microfilm