The following is from a page 1 article in the 17 Oct Nov 1918 issue of
the Simcoe Reformer newspaper.
Norfolk Casualties

453790 -- Private George William Cook, m.m., d.c.m,
of Simcoe. Killed in Action.

797223 -- William Denny of Langton.
Killed in Action on 27 Sep 1918.
Enlisted in 133rd Battalion. His parents subsequently moved to Brantford. His father, Robert Denny, is well-known in Simcoe.

797596 -- Private W. Dickey of Delhi.
Died of Wounds.

796007 -- Private Laurens Martinus Fleg of Simcoe.
Killed in Action.

408599 -- Private Levi Nelson Kenline of Charlotteville. Killed in Action.

335348 -- Private Hugh I. Olmstead of Simcoe vininity.
Died on Shipboard.

796005 -- Private Robert Prentice of Simcoe.
Killed in Action.

Private Wilfrid Simmons of Courtland.
Died of Wounds.


The following is from page 1 of the 7 Nov 1918 Simcoe Reformer.

How Lawrence Flegg Died

The following letter was received by Mrs. Lawrence Flegg from Lieut. Wm. Powell, regarding the death in action of her husband on October 1st.

France, 10 Oct 1918

Dear Madame, -- It is my painful duty to write and let you know of the death of your husband, Bugler L. M. Flegg. He was killed in action on 1 Oct 1918.

We had attacked and reached our objective and had dug in. Your husband was wounded in the foot and while making his way back was hit again by a machine gun bullet and killed.

His private effects have been sent on to you. All I can do is to express the sympathy of his comrades and myself in your sad trouble.

He died doing his duty and fighting for the freedom of the world against the opposition of the Huns and military rule.

With sincere sympathy from,
William Powell,
Lieutenant


Also see Laurens' Attestation paper: side 1 | side 2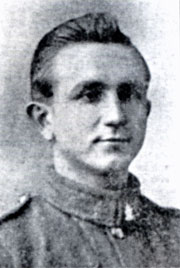 Laurens M. Fleg