The following transcription is of a page 1 article in the 15 Jul 1915 issue
of the Simcoe Reformer newspaper.
GAVE HIS LIFE FOR THE CAUSE

Mrs. Bottomley of Niagara Falls, has been so much in Simcoe of late and has by her charm and kindliness won so many friends; that today the sympathy of our citizens goes out unreservedly to her in her bereavement.

The dread message "Killed in Action" has come to her across the oceans and continents from far away British West Africa, announcing the death of her husband,
Sergt.-Major John C [sic]. Bottomley, on Jun 23.

Deceased was a son of the late Joseph Bottomley, and was well known in Norfolk where he had spent most of his life. He was a veteran of the South African war, and held the distinguished conduct medal. He went to the front with the first Canadian contingent, but later exchanged into a British regiment ordered to East Africa.


The following transcription is of a page 1 article in the 2 Sep 1915 issue
of the Simcoe Reformer newspaper.


Norfolk Man Was Popular

Mrs. J. W [sic]. Bottomley has been the recipient lately of a couple of letters describing the gallant death in action of her husband, Sergt.-Major J. W. Bottomley, at Bukoka, German East Africa, on June 23.

One letter was written by his commanding officer,
Major Leitch, and the other was written to a friend of
Sergt.-Major Bottomley, C. A. Hood of Leeds, England,
and sent by the latter to Mrs. Bottomley.

Norfolk is the native county of "Jack" Bottomley, and his many friends will be interested in hearing of the brave
end of one who lost his life in attempting to defend the unselfish and great aims of the British Empire.


---

In the Field,
26 Jun 1915.
Mrs. J. W. Bottomley,
Niagara Falls,
Dear Madam,

In extending to you and your family my sympathy at the death in action on 23 Jun of your gallant husband
(my sergeant-major), I wish to place on record the splendid work he had done in the regiment from the date of his joining up to the hour of his death.

He was loved by all ranks, and all remember with pride his heroic conduct on the field. He fell (as he would have wished to fall), at the head of him men, charging the German guns.

He died peacefully and almost instantly, and was buried the same evening in the park of the captured town of Bukoba, German East Africa, surrounded by his men
who he had so gallantly led, and who died with him.

Having come from Hamilton, Ont., myself, and knowing your husband previously, we had become very close friends and his loss was a great blow to me.

Your obedient servant,
John S. Leitch,
Commanding "C" Co'y.
25th Royal Fusiliers

---

10 Lynton Road,
W. Croydon,
9 Aug 1915.
C. A. Hood, Esq.,
Leeds, England
Dear Sir,

Thanks for yours of the 9th ult. I have received the enclosure from the war office.

There is a man in Croydon who says he was in the trench with our friend Jack when he was killed. This man in home suffering from shrapnel wounds in the leg.

He says Jack was wounded three times during the morning, but refused to go back to have his wounds attended to, saying that his place was with his men. Soon after this a Maxim gun finished him, and there were twenty-four wounds on his body. There was a howl of rage in their trench when it happened.

If anything more should be heard I will at once forward, as perhaps you may think it right to pass same on to Mrs. Bottomley. If you do, will you be so kind as to express to her our deepest sympathy.

We felt his loss more that you might suppose after such short acquaintance. We would be pleased to hear from Mrs. Bottomley if she cared to write.

Although what this soldier says is more that the official statement, I quite believe it to be true, as I know how all his men, without exception, loved him.
I am, sir,
Yours faithfully,
Geo. Adams



Also see John's Attestation paper: side 1 | side 2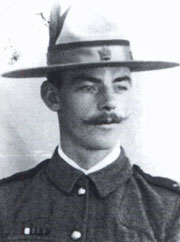 John Bottomley