The following is from a page 1 article in the 6 Sep 1917 issue of the Simcoe Reformer newspaper.
"KILLED IN ACTION"

Sergeant James William Alward, [pioneer] sergeant of the 133rd, son of Mr. and Mrs. Simeon Alward of Simcoe.

Sergt. Alward was a millwright and prior to enlisting conducted a wood working shop here. His wife is at present living in Rochester.

A younger brother, Cecil, also went to the war and
was reported first as "missing," and afterwards as
"presumed dead."


The following is from a page 1 article in the 27 Sep 1917 issue of
the Simcoe Reformer newspaper.

TRIBUTES TO SERGT. J. W. ALWARD

Mrs. Anna L. Alward, the widow of Sergt. J. W. Alward, has received the following letters of sympathy from the officer in charge of her husband's platoon, Lieutenant
P. W. Shill of No. 3 Platoon, and Colonel A. C. Pratt.

France, August 25, 1917
Dear Madame: -- I regret to have to inform you of the death of your husband, Corporal J. W. Alward, who was killed by concussion from a shell during the holding of the new line on Hill 79.

He was buried in the front line, near where he fell.

I may say, as his platoon commander, that the loss to the platoon and in fact to all concerned, is very severe, as he was a first-class, thoroughly reliable and trustworthy non-commissioned officer and his place will be hard to fill.

At such times as these one can only refer you to our Heavenly Father, who will Himself be a husband to the widow and a father to the fatherless. I have proved by experience that His grace is sufficient for us, even under the most trying circumstances. He will give you all the strength you need, if you will put your whole trust in Him. God bless and help you.

---

Colonel A. C. Pratt at H.Q. No. 1 Labour Group, France, wrote on 5 Sep 1917:

Dear Mrs. Alward: -- I have just learned that your splendid husband was killed in action on July 10th.

He was one of my very best soldiers and I was and
am very proud of him. I counted him as one of my warm personal friends and from the very first he
was a source of helpfulness and strength to me.

His work was always well done and no matter what conditions he encountered he was very cheerful.

I grieve with you over the loss of one of Norfolk's
truest heroes, and his native county will never forget
his sacrifice. His name will stand in proud and loving memory for all that is best in life and character.

I know that he has gained the reward reserved for heroes and has but gone before a little while. May a kind and loving Providence lighten your care and soften your grief.


Also see James' Attestation paper: side 1 | side 2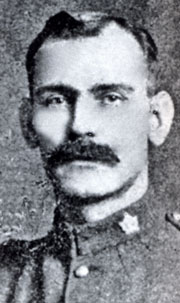 James Alward