Parilla Motorcycles
Data Collected by Paul Rostic:
History:

Moto Parilla was founded in Milan in 1946 by Giovanni Parrilla. He was born in Spain and emigrated to Southern Italy during the Second World War. He started to manufacture motorcycles in his small workshop specializing in the repair of diesel injectors and pumps. He went on to produce an array of small displacement scooters, mopeds and motorcycles. He changed the spelling of his name to one "r" for his motorcycle marque. Rather than build inexpensive two-strokes to power the populace in the days following World War II, Parrilla created a full-bore, thoroughbred 250cc overhead-cam racer that was soon rivaling Moto Guzzi for the checkered flag. By 1954, Parilla's racer was the High Cam 175cc MSDS, also known as the Grand Sport.
The Parilla High-Cam Engine

The High Cam engine featured overhead valves operated by short pushrods and a cam placed at combustion chamber height on the engine's side. The cam was driven off the crankshaft by chain, or, on some advanced racers, by a train of lightened, straight-cut gears. This engine design offered the benefits of an overhead camshaft without that system's bulk. The result was an all-conquering production racer that swept Italian and American race events.
Running the Giro d'Italia

The ultimate Italian race to win in the Fifties was the Giro d'Italia, or Tour of Italy, that ran over six days and more than 1,000 miles. For the 1957 race, Parilla fielded a team of seven MSDS racers outfitted with dual-plug heads, twin batteries, and a special double-filler gas tank. The team's efforts were not in vain: rider Giuseppe Rottigni endured the distance and took home top honors for Parilla. There was no need for Giovanni to put the "r" back in his firm's name - all he had to do was make his middle initial a "v." V for "victory," that is.
Picture of Giuseppe Rottigni and a Parilla.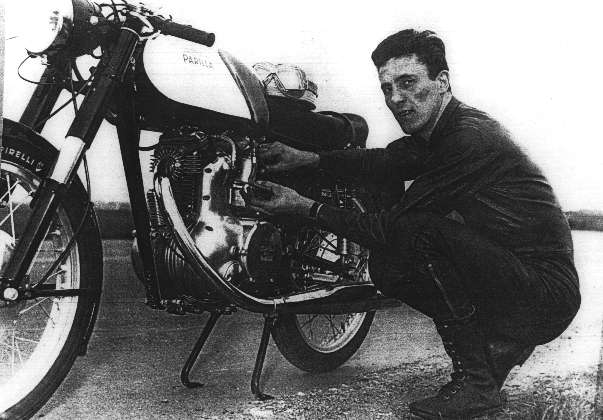 Page designed and maintained by T.Harris at Euro-Trash Motors
Last revision January 24, 1999..Visitor number