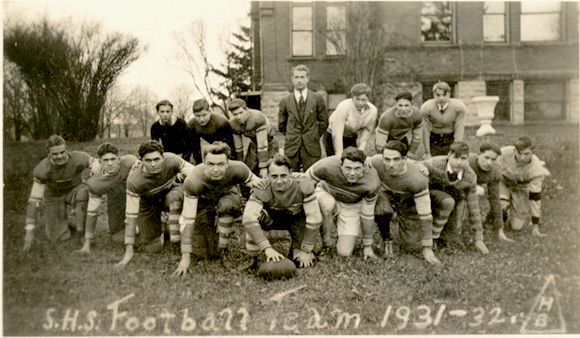 1931 Simcoe High School Football Team
From left to right, back row: Archie Cotton, Herbert Beagle, Ray Neil, coach Lloyd Schaus, Bill Cornish, [Art West?], [Bob Hamilton?].
Front row: Joe Jackson, George Aitken, ___ Thompson, Carder Faskin, Tony Yeager,
Len Mason, Russ Decoe, Dave Weaver, Harry Calder, Vern"Tammy" Piette. Absent: ___ Fort.
Photo courtesy of Dr. Leonard Mason.
From the 29 Oct 1931 Simcoe Reformer:
"After a lapse of several years, rugby again promises to become a major sport at SHS."

From the 12 Nov 1931 Simcoe Reformer:
"Simcoe High School rugby team defeated Paris 25-15. It was not difficult to select the stars. Ray Neil and Herbert Beagle were outstanding for the locals. The Paris team from the sidelines appeared to be composed about 90 per cent of Sylvanus Apps. Apps, who is well known for his ability as a sprinter and a harrier scored every Paris point."