The following profile was based on articles published in the Haldimand Press and Hamilton Spectator. Additional information provided by Ward's family.
The youngest of three sons, Ward Clifford Parsons was born 30 Oct 1922, on the family farm of his parents, Harvey Parsons and Grace Havill, southwest of Cayuga in Haldimand County.

He died 77 years later, 15 Mar 2000 at McMaster University Medical Centre in Hamilton, having won a World War II Distinguished Flying Cross. married his childhood sweetheart, and logged over 20,000 hours in the air, piloting everything from Tiger Moth biplanes to Jumbo 747s.

A natural athlete, Ward volunteered for World War II, enlisting when he was just 18, in June 1941. Less than a year later, he was on his way to the front as Sergeant Pilot Parsons to fly progressively bigger aircraft planes during the war.

On his 29th mission, disaster struck when the Lancaster bomber he was piloting took flak over Germany. His best friend and navigator, who was sitting in the next seat, was killed, forcing Ward to make an unassisted emergency landing once they crossed the English Channel. Ward had been the best man at his navigator's wedding just two weeks before.

In 1943, before Ward was old enough to vote, King George VI presented him with the Distinguished Flying Cross.

Home on leave, Ward married his childhood sweetheart, Shirley Reicheld of Jarvis, the following year. Ten days later he was ordered back to England, where is was preparing for another tour of duty when the war ended.

Back in Canada, Ward attended Simcoe High and the University of Toronto before being hired by British Overseas Airways Corp., the forerunner of British Airways, as a commercial pilot in 1947.

He flew prop airliners from London to New York until 1956 when he was promoted from first officer to captain, and began flying Comet 4 jetliners between England and Australia.

In 1964 Ward was selected to pilot British Prime Minister Alex Douglas-Home on state visits to Washington and Ottawa.

In 1974 Ward qualified on Boeing 747s and flew them until his mandatory retirement three years later. From 1978 to 1980 he flew Jumbos for Syran Arab Airlines until an eye injury forced him to give up his licence.

In 1995 after living in England for almost half a century, Ward and Shirley returned to Canada, settling in Ancaster, Ontario near their daughters, the first born in Simcoe, the second in England.

Ward is survived by his wife Shirley, daughters Sylvia and Shani, and their families.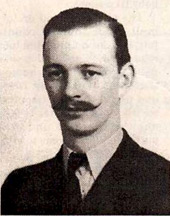 In the RCAF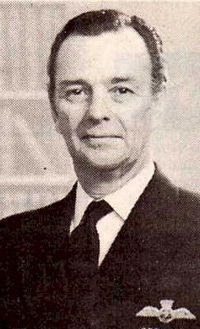 at retirement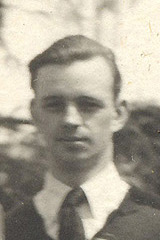 at Simcoe High