This is student: Helen Holden
Identified by W.B., Christie & friends
Confirmed 8 Sep 2004 by her cousin Shirley (Holden) Ross

Helen Doris Holden, born 25 Jan 1928 in Simcoe, eldest
daughter of James Wm. Holden (1899-1978) and
Olive Emily Wakeford (1901-1997). Helen attended North
School, Simcoe High and Simcoe Business College then
worked in the office of Norfolk Fruit Growers and
Francis Reid's law office. She moved to Toronto and
worked in several law offices and Osgood Hall.
She married Ben Johnson in 1955 and they lived in
Ottawa, Port Colborne, then Niagara Falls.
After their divorce in 1967, Helen returned to Toronto
and worked in the office of the Attorney General.
Giving up work due to Multiple Sclerosis, she returned
to Simcoe and two years later was admitted to Long-term
Care Wing of Norfolk General Hospital, where she lived
for 12 years. Helen passed away 22 Aug 1993.
-- Biography by her sister Joyce (Holden) Mallard, 13 Sep 2004

-- also see Helen in the 1946 Simcoe High photo
-- also see: 1946 Simcoe High School grade 13 class photo
-- also see Helen's sister Joyce Holden.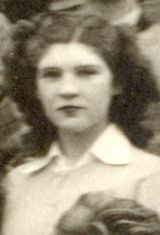 Also see:
Helen's 1946 photo