This is student: Jim Horn
Identified 15 Nov 2010 by James E. Horn & Lois (Payne) Powell
Confirmed 28 Jan 2011 by Clarence Morris

From the 25 Feb 2016 issue of the Simcoe Reformer:
James Edward Horn, was born 2 Oct 1930 in Port Dover, a son of
Leslie Horn and Nina Buchner. Jim married Joan Coones and became the father four, grandfather of nine, great-grandfather of five, and great-great-grandfather of one.

Jim worked for his brother-in-law Fred Given at Port Dover Coal and Supply before starting his 35 year career with the Town of Simcoe
as a property assessor and tax collector.
In 1970 he transferred to the Province of Ontario, Ministry of Revenue, Assessment Division Brantford. He retired in 1990.

For many years, Jim was a proud and active member of the
69th Battery (Simcoe) 56th Field Artillery, Canadian Army Reserves, attaining the rank of Lieutenant.

Jim died peacefully 23 Feb 2016 in Brantford.

(Jim contributed a scan of this 1944-45 Port Dover High photo to this web site in Nov 2010.)






Our tour of those in the photo is organized by row, back to front.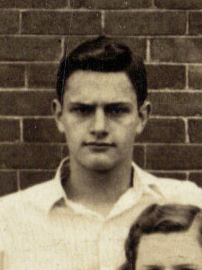 See Enlargement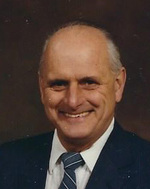 James E. Horn