Norfolk's 2001 NHL Hockey Club
by John Cardiff

Norfolk's history is still being written. Norfolk has more native sons playing in the National Hockey League this year (2001-02 season) than ever before.

In the 1950s and 1960s it was hockey legend Leonard "Red" Kelly who first carried Norfolk's colors in professional sports. An eight-time Stanley Cup Champion, Red played for the Detroit Red Wings then the Toronto Maple Leafs. More about Red.

Adopted native son, Sault Ste. Marie, Ontario native Ron "Chico" Maki played minor hockey locally and settled here when he retired from the Chicago Blackhawks. He was a member of the 1961 Stanley Cup winning Blackhawks, and with team mates Bobby Hull and Phil Esposito formed 1965-66's highest scoring line in the league.

Port Dover's Rick Wamsley was Norfolk's third Stanley Cup Champion as the Calgary Flames goalie in 1989. Off-season, Rick founded the Rick Wamsley Golf Classic to raise money for local charities. His Classic evolved into the Norfolk Pros Foundation and its annual golf tournament was Norfolk's leading athletic charity fundraiser for years.

The Colorado Avalanche's Rob Blake was our next native son to win the Stanley Cup. When he brought the Cup to Simcoe 14 Jul 2001 thousands of fans lined Simcoe streets for the Rob Blake Stanley Cup Parade of Champions featuring Red Kelly, Chico Maki, Rick Wamsley, Rob Blake, their families, and then-current minor sports champions.

Here's an overview of Norfolk natives playing in the NHL today...

Colorado Avalanche all-star defenceman and Norris Cup winner Rob Blake of Simcoe, starred in Simcoe minor hockey and at Bowling Green University before joining the Los Angeles Kings in 1991. He has played on several versions of Team Canada including the 2002 Salt Lake City Olympic Gold Medal winner. Traded to Colorado in February 2001, Rob helped lead the Avalanche to 2001's Stanley Cup. The five-year, $47-million contract he signed in June 2001 made Rob Norfolk's highest paid athlete ever.

Los Angeles Kings left winger Nelson Emerson of Waterford starred in minor hockey at home, and at Bowling Green University where he was the all-time leading scorer, and first ever three-time finalist as the top U.S. collegiate player. Nelson turned pro with the St. Louis Blues organization in 1990 and played with the Winnipeg Jets, Hartford Whalers, Chicago Blackhawks, Ottawa Senators and Carolina Thrashers before joining the Los Angeles Kings in 2000. He and best friend Rob Blake were members of the Team Canada that won Gold in 1994.

Tampa Lightning defenceman Jassen Cullimore of Simcoe played his minor hockey in Simcoe, Caledonia and Peterborough. He represented Canada at the 1990-91 World Junior Championships, and was a 1991-92 Ontario Hockey League all-star. He turned pro with the 1994 Vancouver Canucks, and played with the Montreal Canadiens before signing with Tampa in 1998.

Minnesota Wild goalie Dwayne Roloson of Simcoe began playing hockey in Simcoe as the goalie behind Rob Blake. At the University of Massachusetts-Lowell 1990-94, he was named to the All-American First Team and won that tournament's Most Valuable Player award. He was elected to the University's Hall of Fame in 1999. Dwayne won several American Hockey League goalie honors and records since turning pro in 1994 -- including 2001 Goaltender of the Year. Since starting the 2001-02 season with the Wild Dwayne has won several Star of the Game awards and holds the team record for shutouts.

As long as they allow fighting in the NHL, Ryan Vandenbussche of Delhi will have a job in hockey as the Chicago Blackhawks' "enforcer." After playing minor hockey locally with future American Hockey League star Geordie Kinnear, Ryan turned pro with the Toronto Maple Leafs organization in 1993, and played on three Calder Cup teams. Ryan played with the New York Rangers organization in 1994 before joining the Blackhawks in 1998.

External link: There is more about all of these hockey stars -- and a Norfolk Sports history section called "Thru the Years" -- on Norfolk County Sports Hall of Recognition's web site.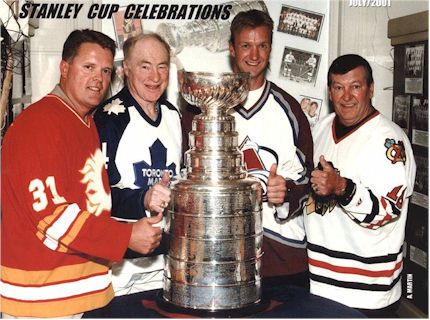 Rick Wamsley, Red Kelly, Rob Blake and Chico Maki gave the Stanley Cup a thumbs up 14 Jul 2001 in Simcoe. Moments later they paraded the Cup down Norfolk Street to Norfolk County Fairgrounds. It was Norfolk's biggest parade ever. (Photo by Art Martin.)