This is student: William (Bill) W. Burt
Identified by W.B., Christie & friends
Identity confirmed 14 Nov 2005 by Marion (Westcott) Dawley

Based on Bill's 9 Mar 2011 Simcoe Reformer obituary:
Dr. William Ward Burt, son of Dr. Arthur C. Burt, M.M.P. and Vira C. Foster, was born 17 Jan 1927 and died 9 Mar 2011 in Simcoe. Survived by his second wife Shirley Riddle, predeceased by his first wife Margaret Bernice "Bunnie" McMillian. Survived by four children, seven grandchildren. Bill was a career long dentist in Simcoe, where his ancestors were prominent citizens from the 1840s. He was a life member, past president of Simcoe Lions Club, a founder of Lynn Valley Trail, a past president of Probus Club, a past president of the former Norfolk Cancer Society, and a trustee of the Norfolk School Board. His several life long friendships included his cousins W. B. Jackson and Christie McKiee.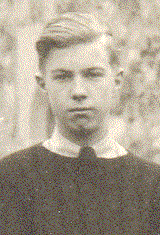 Bill Burt