One of Norfolk's first pioneer settlers, John Troyer, was "insanely superstitious," a "hopeless and confirmed believer in witchcraft," according to E. A. Owen, in his 1898 book, Pioneer Sketches of Long Point Settlement. "This peculiar mental malady caused him a world of trouble and made him ridiculously notorious."

Although as Norfolk researcher Robert Mutrie points out, "the whole [Troyer] witchcraft thing is way overdone by everyone," it remains a documented tale from Norfolk's past.

Troyer's passing was noted in Chronicle of Canada, where Elizabeth Abbott described him as "a businessman, farmer, exorcist and self-taught medical practitioner," going on to say "he farmed near Long Point on Lake Erie and established a gristmill. Medically, he practised blood letting and used herbal remedies. He supposedly could banish witches and find water and metals with a divining rod."

Troyer was of Swiss descent (not German, as Owen claimed) and brought his wife and children to Norfolk from Pennsylvania in 1789. He was "terribly persecuted by ... witches," according to Owen. "All his troubles of mind and body were attributed to the witches who existed in human form and possessed miraculous powers for producing evil."

"He kept a number of horse-shoes over the door of his house, and at the foot of his bed a huge trap was bolted to the floor where it was set every night to catch witches. The jaws were about three feet long, and when shut about two and a half feet high."

"But in spite of this defensive means the witches would occasionally take him out in the night and transform him into various kinds of animals and compel him to perform all sorts of antics.

"One night the witches took him out of a peaceful slumber, transformed him into a horse and rode him across the lake to Dunkirk where they attended a witch dance. They tied him to a post where he could witness the dance through the windows, and fed him rye-straw." Apparently "the change of diet and the hard treatment to which he was subjected, laid him up for a long time. It required several doses of powerful medicine to counteract the injurious effects of the rye-straw and restore his digestive organs to a normal condition."

Troyer "looked upon certain of his neighbors as witches, one of the most dreaded being the widow of Captain Edward McMichael. Mrs. McMichael was a very clever woman, and to be considered a witch by the superstitious old doctor was highly amusing to her. She was a woman of strong mind and great courage, and it is said she frequently visited and made grimaces at the poor old doctor from some recess or clump of bushes, just for the pleasure it gave her to tease and torment him."

____________________________________
Portions of this article quoted from E. A. Owen's Pioneer Sketches of Long Point Settlement, published by William Briggs, Toronto, 1898; reprinted by Mika Publishing Company, Belleville, Ontario, 1986.



Also see our
online video of
Troyer Cemetery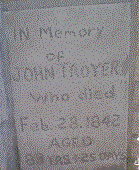 Troyer's grave