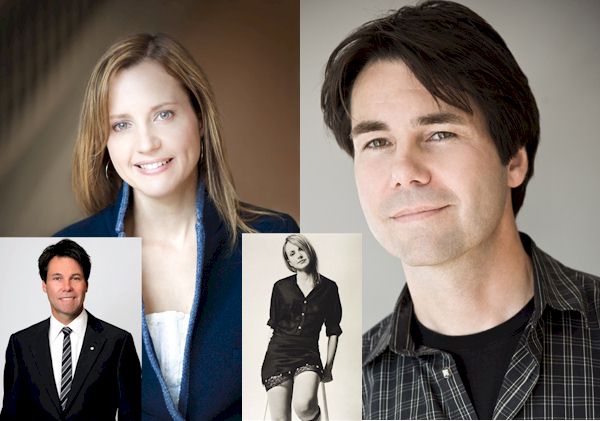 Eric Hoskins, who grew up in Simcoe, and his wife, Dr. Samantha Nutt, are alumni of McMaster University, where they received honorary doctor of law degrees in recognition of their humanitarian work helping children in war-torn countries.

From the 27 Jun 2005 Simcoe Reformer article by Daniel Pearce:
University honours couple for humanitarian work
Local humanitarian heroes Dr. Eric Hoskins and his wife Dr. Samantha Nutt were honored Friday [20 May 2005] at the university that inspired them to travel the world to help children in war torn countries.
The couple are international renowned for their work with children caught in the crossfire of battle, sometimes done under great personal risk as fighting goes on around them. They also head up War Child Canada, a charitable aid organization based in Toronto. It runs programs in 12 countries, including Sudan, Congo and Iraq.
On Friday, Hoskins and Nutt appeared before 200 graduating health sciences students at McMaster University to receive honorary doctorates in laws.
The couple, who graduated as medical students from the school, were singled out by McMaster for their achievements in the humanitarian field. "Not only is it great professional recognition. It's also wonderful in a sentimental way," said Nutt, who met Hoskins at the university. "It's the place that pulled us together, that led us on this extraordinary journey."
"The doctorates of laws are recognition of the human rights work we do," she said, and will allow the couple "to throw our opinions around with more weight."
Hoskins, who grew up in Simcoe but now lives in Toronto, credits McMaster with introducing him to international development work. The school allows students to take some electives abroad. Hoskins studied in England, the Dominican Republic, and South America before graduating in 1985.
Both have received prestigious awards. In 1993, Hoskins became the youngest person to be awarded Canada's highest humanitarian award, the United Nations Lester B. Pearson Peace medal. He was awarded the Governor General's Meritorious Service Cross in 1999.
"McMaster was founded on a community-oriented and people-centred philosophy," Dr. John Kelton, vice president of McMaster's Faculty of Health Sciences, said in a press release. "Both of these doctors are wonderful role models to young Canadians."
Five days before the ceremony, Nutt gave birth to the couple's first child -- a boy, Rhys. That means changes for the parents, Hoskins acknowledged. "We'll keep on doing the work we have been doing. But we probably won't take some of the risks we've been taking."
Years ago in Eritrea, Hoskins was trapped in an underground bunker for more than three days while shelling went on around him.
_______
| | |
| --- | --- |
| Samantha Nutt, MD, MSc. FRCPC, a specialist in maternal and child health in zones of armed conflict, co-founded and is executive director of War Child Canada. An international women's health scholar and a Royal College of Physicians and Surgeons of Canada Fellow in community medicine, she has received numerous humanitarian awards for her work in support of children affected by war. | |
Eric Hoskins, MD, D Phil, MSc, FRCPC, Rhodes Scholar, president and general manager of War Child Canada, has worked extensively with the United Nations and non-governmental organizations in some of the world's most heavily affected war zones, A specialist in the health of children in war zones, public health, humanitarian relief, humanitarian affairs, human rights, refugee health and the civilian impact of war, he was from 1998-2000 senior policy advisor to former Canadian Foreign Minister Lloyd Axworthy. He co-founded the International Study Team, and led a group of over 80 experts who, in 1991, produced the most comprehensive assessment of post-war Iraq to date. He led the recent IST mission to Iraq in January 2003, assessing the impact of war on children and the preparedness of the humanitarian response.